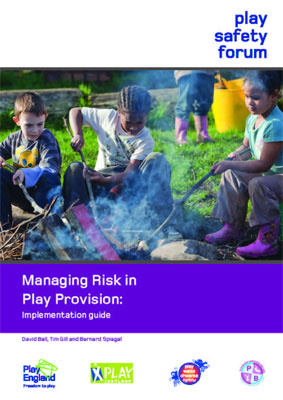 Managing Risk in Play Provision: Implementation guide 2012

CLICK HERE FOR THIS PUBLICATION

The Play Safety Forum produced an updated version of Managing Risk in Play Provision – Implementation guide which was originally published in 2008. Written by David Ball, Tim Gill and Bernard Spiegal, this guide shows how play providers can develop an approach to risk management that takes into account the benefits to children and young people of challenging play experiences, as well as the risks. It builds on the Play Safety Forum's Managing risk in play provision – position statement (2002).

The guide is aimed at those responsible for managing play provision, and will be useful for those who manage spaces and settings in which children play, and for those involved in designing and maintaining them.


Robin Sutcliffe, Chair of the Play Safety Forum said:

"Children need and choose exciting places to play, which inevitably means managing situations that are inherently risky. This publication recognises this and gives guidance to providers about how this can be reconciled with a natural desire for children's safety."

Judith Hackitt, Chair of HSE said:

"Play – and particularly play outdoors – teaches young people how to deal with risk. Without this awareness and learning they are ill equipped to deal with adult life. Outdoor play and learning is an important part of our children's education. HSE endorses the proportionate advice in the guide. We should all make sure that needless health and safety excuses do not get in the way of activities. Of course take sensible and reasonable precautions, but let young people play."